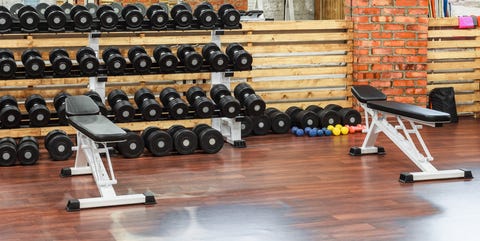 You might think your home gym is all that—but until you have a bench to anchor the space to give you a spot to press, fly, curl, and more, all you have is a dedicated cardio booth.
We've already shared our picks for the best adjustable dumbbells and overall home gym equipment, but now we really want to focus on the bench. The only question is, what kind? Should you go with a rigid flat option, or something more versatile, with wheels and adjustable settings?
That all depends on your fitness goals and what you're trying to accomplish through your home setup. If your space and budget is limited and you're only looking for the basics, go with a flat bench. If you can splurge, pull out all the stops and choose an adjustable option with all the trimmings. Either way, you can't go wrong with any of these 10 weight benches.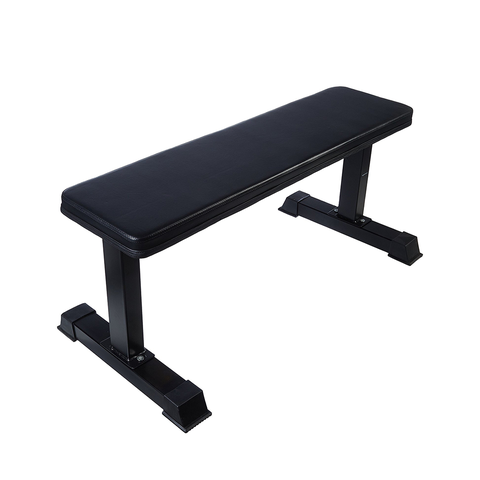 $49.99

$38.85 (22% off)
Shop Now
As the name indicates, this bench is as basic as you get. If you only have a small space available and plan to perform exercises on a flat plane, Amazon has you covered.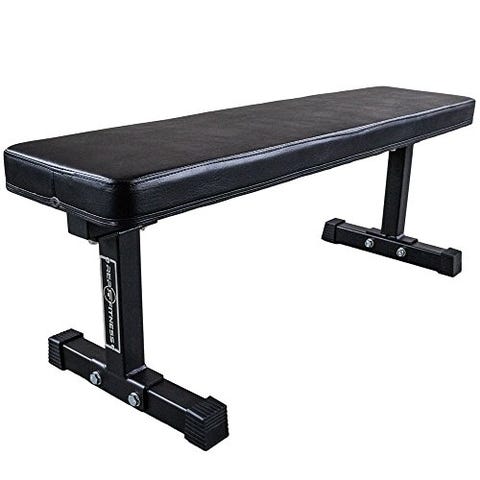 $129.00
Buy Now
Rep Fitness' Flat Bench is the epitome of simple functionality. The high quality structure comes from 11 gauge steel, a plywood base layer, and vinyl cover. If you're worried about sturdiness, never fear — the bench is ASTM rated for up to 1,000 lbs.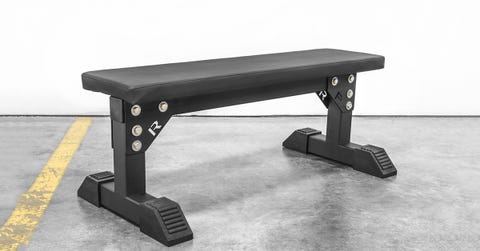 $265.00
SHOP NOW
This basic flat bench is simple, but its extra-wide base sturdy steel build means it can handle just about any exercise you can perform on top of it. Heavy-duty rubber foot pads make the whole rig even more stable.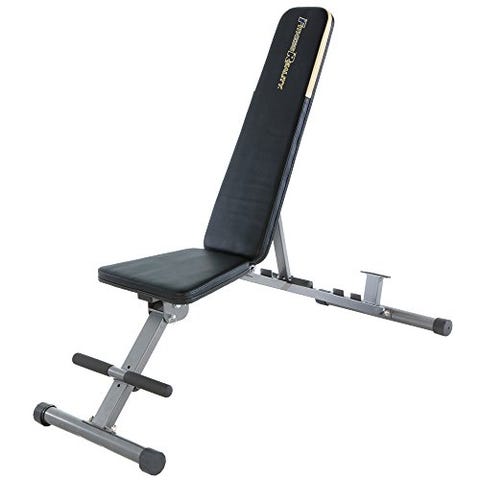 $94.01
Shop Now
Go beyond the basics with this adjustable unit from Fitness Reality. You can change the backrest position from a -20 degree decline all the way up to a +80 degree incline for a full range of motion during dumbbell exercises. Bonus: you can fold the bench up for easier storage if you're running low on space.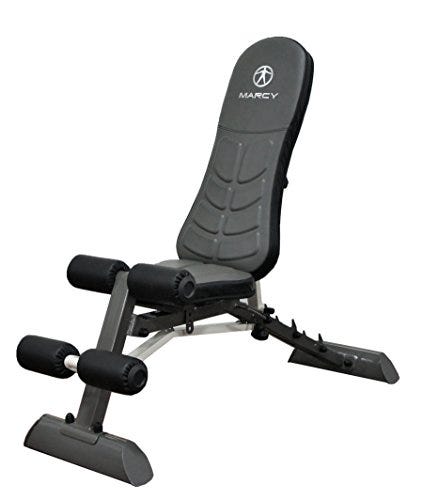 $135.99

$108.79 (20% off)
Shop Now
Work out in comfort with this ergonomically designed adjustable bench from Marcy, complete with foam roller pads for leg support. The two-piece design means you can adjust the seat just as easily as the backpad.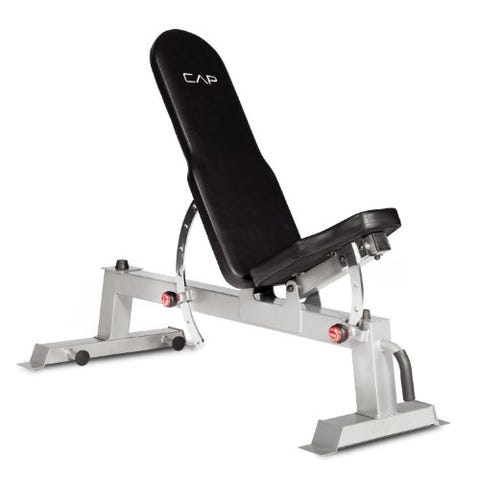 $120.41
Shop Now
Weight benches aren't just for dumbbells — the two fixtures at the bottom of this do-everything bench from CAP Barbell are perfect for stretch bands for presses, flys, and more. The unit also allows you to adjust to 10 different settings, giving you plenty of options for your workout.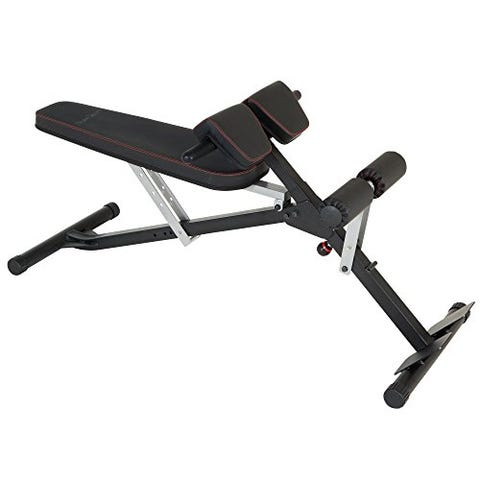 $199.00

$158.95 (20% off)
Shop Now
A great home gym bench can pack a ton of utility into a small package. This versatile option from Fitness Reality can serve as a flat or decline bench, plus it has attachments for exercises like back extensions, situps, and more.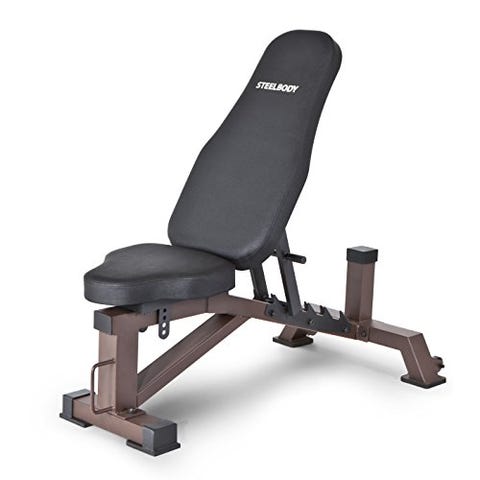 $193.99
Shop Now
No frills here — the Steelbody bench is all about performance. Two-inch thick padding and heavy duty steel make this a sturdy support for the toughest workouts.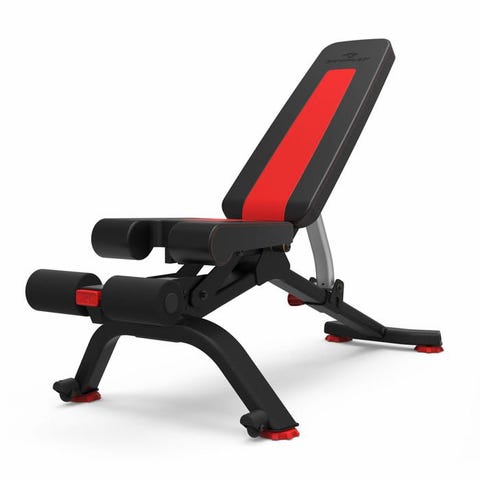 $299.00
Shop Now
This sturdy Bowflex bench has six adjustable settings and a 600-lb. capacity. Its best feature, however, is its collapsible design, which reduces its in-room footprint by more than 50 percent when it's stowed away.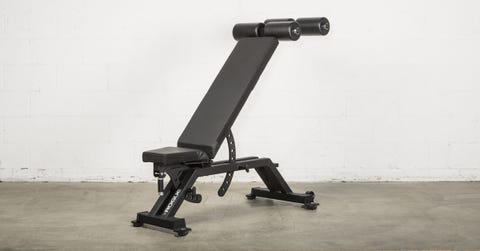 $935.00
SHOP NOW
This beast of a bench is as versatile as it is tough. Flat, incline, decline—rock any orientation for your presses, curls, and more. Just be willing to shell out top dollar for all those capabilities.
Source: Read Full Article