National Oreo Day was March 6, and you know who was very excited about it? Mindy Kaling's daughter, Katherine. You can even hear her giggle in the background of a video Kaling filmed and posted to Instagram specifically about National Oreo Day, wherein she celebrated the glorious "holiday" by taste-testing six different flavors of Oreos, mint, birthday cake, red velvet, lemon, chocolate peanut butter pie, and The Most Stuf, Oreo's newest flavor.
"I'm not sponsored by Oreo, but I love them, so I thought I'd do a taste test," Kaling said to the camera with a stack of Oreos towered on the table in front of her.
Kaling posted her honest Oreo reviews to her Instagram Stories, so naturally they've vanished by now; but thanks to Delish, who captured her reactions in time, we have the facial reactions to pair with each Oreo flavor's score.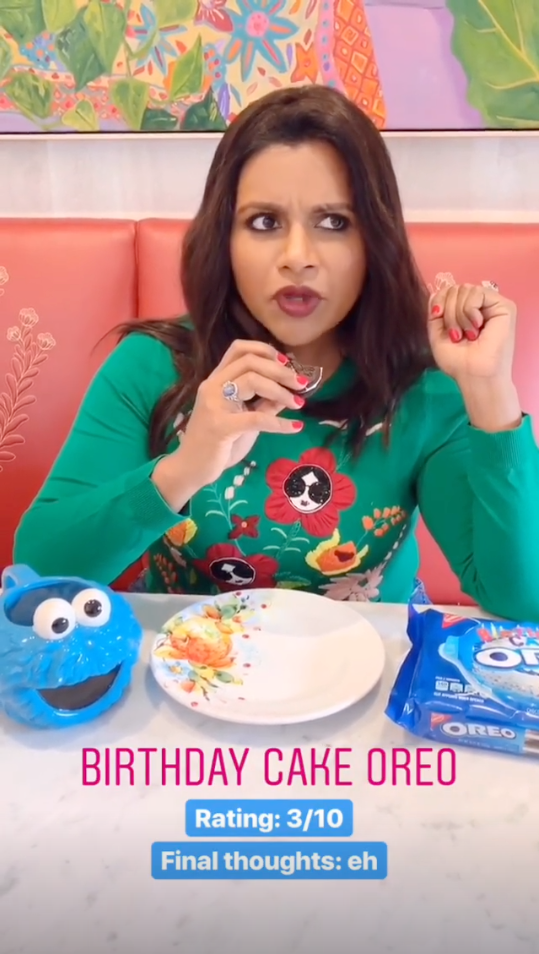 First up, birthday cake Oreo: "At first blush, when you open up the package…real pungent smell," Kaling says, adding that while it has a "good crunch," it's "meh." She gave it a 3/10. Better luck next time, Oreo.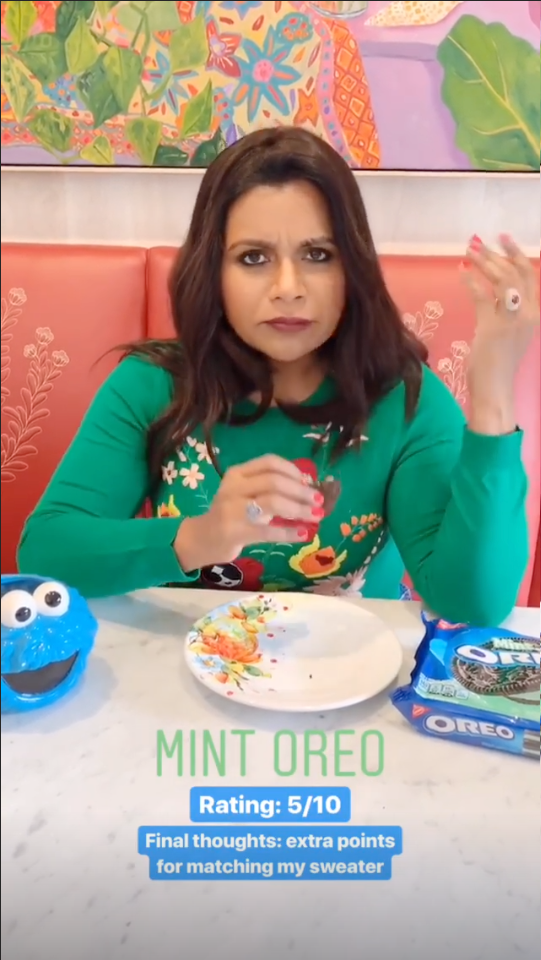 Next up, mint Oreo, to which Kaling described as having "Thin Mint vibes," giving the flavor a 5/10 rating.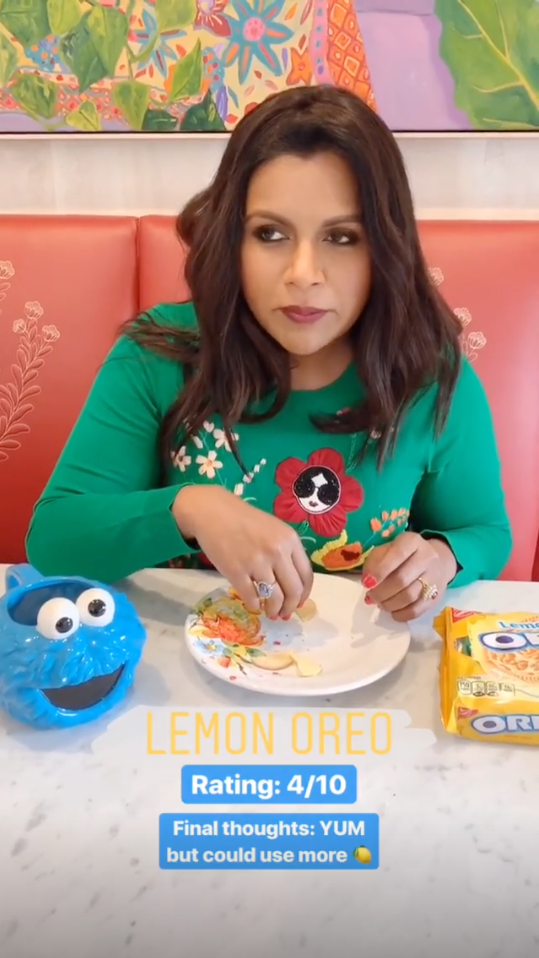 Third on the list was "real classy" lemon Oreo, "the kind you would have if your grandmother came over," Kaling joked. She gave it a 4/10.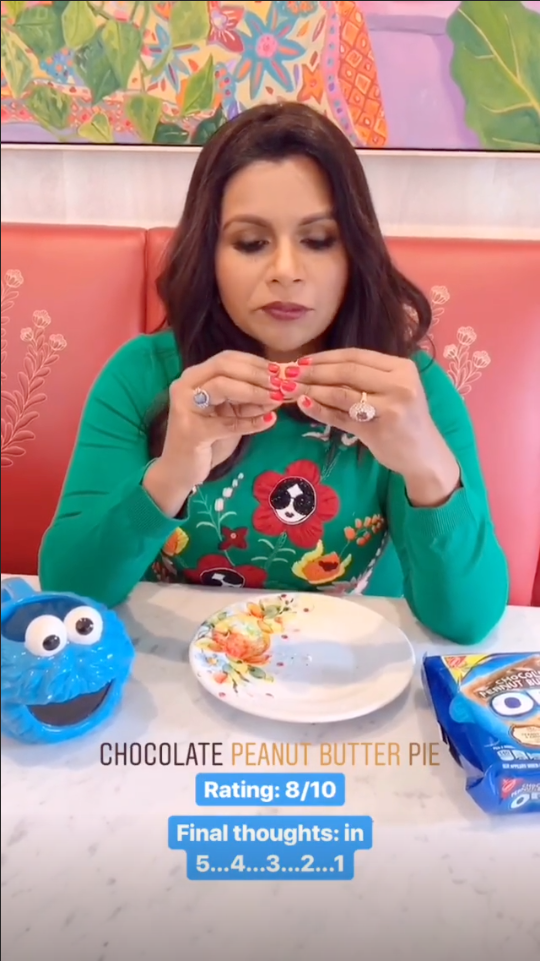 The cookie that received the second-highest score? Chocolate peanut butter pie, with an 8/10 rating. Kaling's gut reaction to tasting the cookie was a relatable "whoa."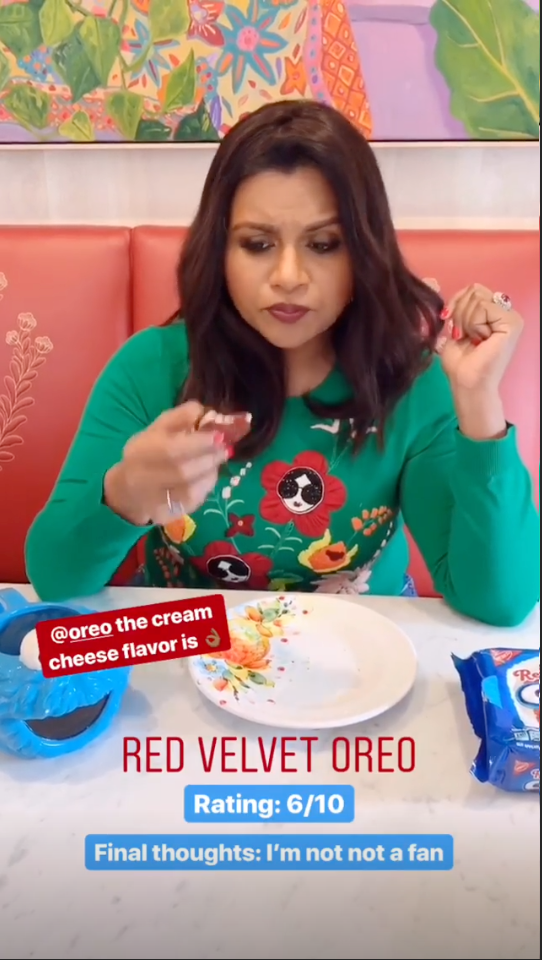 The "classic, feminine, girly" red velvet flavor received so-so remarks from Kaling, who said she's "not not a fan" of the cookie she gave a 6/10.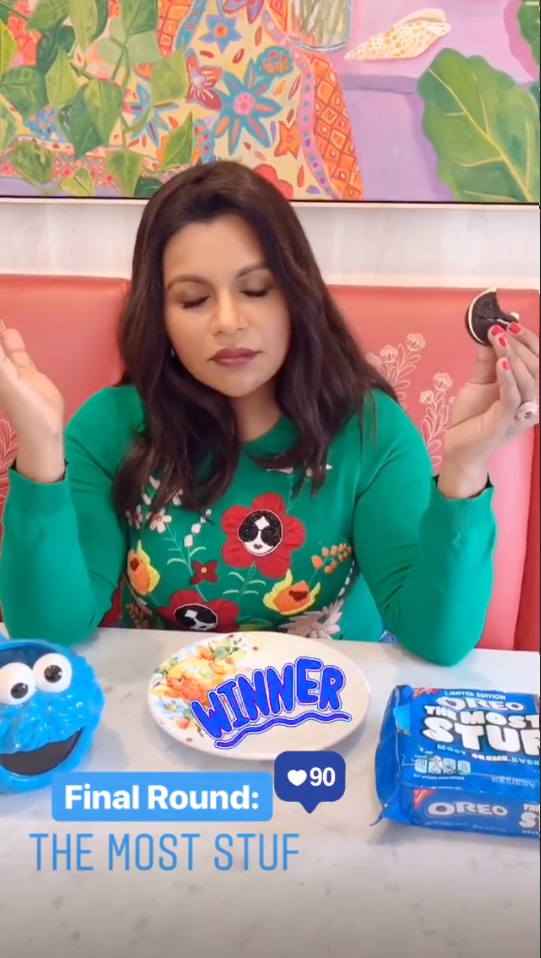 The clear winner at the end of it all was The Most Stuf, which got the highest marks: 10/10. "Oh my God," she said. "It's like cream with a hint of cookie, which is exactly how I like my cookies: truly decadent." Kaling added that her The Office co-star and 2019 Oscars date, BJ Novak, introduced her to the cookie.
While Kaling's whole taste-test was 1,000-percent relatable, she did start off the video stating that one popular approach to eating Oreos is "too sensual" for her: splitting the Oreo in two and eating the cream filling first.
"I don't get people who are like, 'I have to take it apart and like lick the cream off,'" she said, jokingly.
It's OK, Kaling; those of us who do forgive you.
Source: Read Full Article