I think there's one thing we can all agree on—keto or not—and that's the fact that sandwiches are a perfect food. But if you're on a low-carb diet, you need to swap bread for lettuce or use these Folios Cheese Wraps instead.
Keto sandwich hacks might satisfy your cravings 90 percent of the time, but sometimes you just need to put some meat and toppings between two slices of bread and chow TF down.
Now, keto dieters have the option to do just that with Outer Aisle's Cauliflower Sandwich Thins.
View this post on Instagram
Cauliflower. Eggs. Parmesan cheese. Italian Seasoning. That's it! . . . . . #ketopizza #ketosis #ketodiet #ketopizza #cauliflowerpizza #cauliflowercrust #fatheadpizza #cauliflower #ketopizzas #lchf #lowcarbdiet #lowcarbpizza #lowcarb #lowcarblifestyle #lowcarbhighfat #lowcarbhighfatdiet #ketorecipes #ketorecipe #ketotortillas #lowcarbdiet #diabeticfood #diabeticdiet #lowglycemic #ketobread
A post shared by Outer Aisle Gourmet (@outeraislegourmet) on
FYI: These sandwich thins have been around for a few years, but they're now available on Amazon, in addition to the Outer Aisle website. The wraps have just four ingredients: cauliflower, parmesan cheese, eggs, and nutritional yeast. This means they're naturally gluten-free, low carb, low calorie, and totally keto-friendly. Here's how the nutrition info breaks down: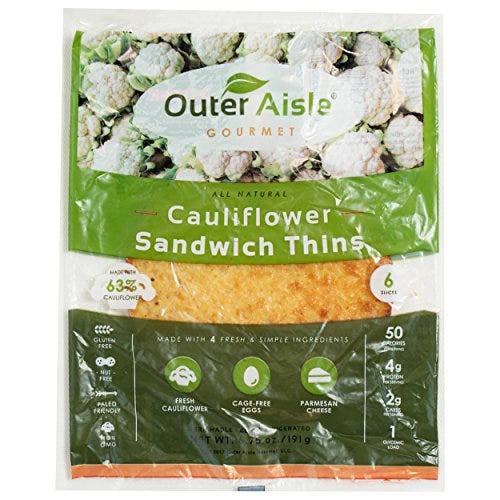 Per serving (1 piece): 50 calories, 2.5 g fat (1.5 g sat), 130 mg sodium, 2 g carbs, 1 g fiber, 1 g sugar, 4 g protein.
You can also use the thins as a replacement for tortillas, mini pizzas, or open-faced sandwiches (avocado toast, anyone?).
The company also makes what looks like a killer Cauliflower Pizza Crust made of the same four ingredients (and still only has four grams of carbs).
If you're having trouble wrapping your mind around all the keto-friendly possibilities that are now just a click away, the folks at Outer Aisle have some pretty delicious-looking ideas on their website and Instagram. Take a look below (but don't hurt yourself clicking "buy now" too quickly):
View this post on Instagram
🍕NATIONAL PIZZA MONTH WINNER: @khani_rangel 🍕 OAG Sandwich Thins ✅ Turkey ✅ Pastrami ✅ Sharp Cheddar ✅ 🍕🍕🍕 We're offering up two packs of cauliflower pizza crusts and sandwich thins ($50 gift card) to one lucky winner! HOW TO ENTER: 1. LIKE this post 2. FOLLOW @outeraislegourmet 3. TAG a friend . • Winner announced tonight with all this week's winners • US ONLY 18+ • #ketopizza #keto #pizza #cauliflowerpizza #cauliflower #cauliflowercrust #lowcarb #lchf #pizzas #pizzahut #ketorecipes #ketosis #ketobreakfast #🍕 #ketotortilla #ketotortillas #nationalpizzamonth
A post shared by Outer Aisle Gourmet (@outeraislegourmet) on
View this post on Instagram
Our avocado toast game is Outer this world…and oh! Did we mention it's gluten free, paleo friendly and low carb? #OuterAisle . . . . . . #ketopizza #ketosis #ketodiet #ketopizza #cauliflowerpizza #cauliflowercrust #fatheadpizza #cauliflower #ketopizzas #lchf #lowcarbdiet #lowcarbpizza #lowcarb #lowcarblifestyle #lowcarbhighfat #lowcarbhighfatdiet #ketorecipes #ketorecipe #ketotortillas #lowcarbdiet #diabeticfood #diabeticdiet #lowglycemic #ketobread
A post shared by Outer Aisle Gourmet (@outeraislegourmet) on
View this post on Instagram
Taco 'bout a low carb treat! Grilled Fish Tacos FTW! 🌮 #TacoTuesday . . . . . #ketopizza #ketosis #ketodiet #ketopizza #cauliflowerpizza #cauliflowercrust #fatheadpizza #cauliflower #ketopizzas #lchf #lowcarbdiet #lowcarbpizza #lowcarb #lowcarblifestyle #lowcarbhighfat #lowcarbhighfatdiet #tacos #taco
A post shared by Outer Aisle Gourmet (@outeraislegourmet) on
Source: Read Full Article