Jennifer Lopez is pretty much everywhere these days. She's in your Insta feed, talking up her sugar challenge, encouraging young dancers on World of Dance, and now she wants to be all over your legs and butt. No, seriously.
J. Lo just dropped a new collection of leggings with Niyama Sol, which she announced on Instagram on Wednesday night. "That new new just dropped from my @NiyamaSol collection," she captioned a shot of herself lounging in a chair in a bra top and leggings with her face on them.
View this post on Instagram
That new new just dropped from my @NiyamaSol collection. 💙 Shop my full #JLoxNiyamaSol collection! Link in story!
A post shared by Jennifer Lopez (@jlo) on
The leggings look pretty cool and all but, tbh, I need a moment to talk about her abs. J. Lo is definitely rocking a six-pack situation over there and last time I checked, she's forty-freaking-nine years old. She's also causally smiling in the pic, pretending like she doesn't know she looks like total fire.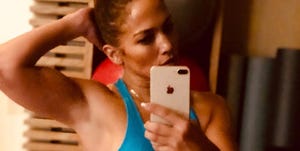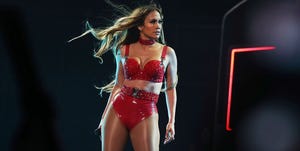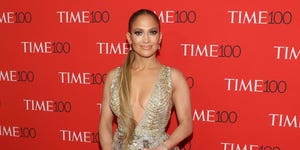 Of course, J. Lo works hard for those abs. She hits the gym on the reg, and works with trainer David Kirsch, who previously said of the singer: "She's genetically blessed, she's physically gifted with an incredible amount of physical energy, but also this beautiful amount of mental and emotional energy."
She's also a fan of the Tracy Anderson Method, which focuses on high reps with low weight, and hones in on smaller muscle groups.
Whew! Okay, back to those leggings…
In true J. Lo style, her collection is not something you'd wear if you want to blend in at the gym. A few of them, like the I'm Real (which she's wearing in her Insta post) and In Color leggings, have her face on them, along with a colorful design.
View this post on Instagram
I'm Real is the name of two songs recorded by Jennifer Lopez for her second studio album J.Lo. A remix of the song features Ja Rule – "cause I'm real, the way you walk, the way you move, the way you talk"… We feature a photo of Jennifer from the album on one leg, surrounded by flowers, and incorporated denim blue and grey tones in the design to echo the denim jumpsuit Jennifer wore at the shoot. The logo J.Lo appears on the waistband. "And I can't go on without you"…. @jlo #jlo #jloxniyamasol #niyamasol #leggings #imreal
A post shared by Niyama Sol (@niyamasol) on
Others feature tons of bright colors and pictures, spliced together with inspirational sayings. (Btw, the Vanguard legging should be your go-to if you really want to stand out.)
View this post on Instagram
I don't know about you, but we've been fan-girling @jlo ever since her first dance move as a Fly Girl on the sketch comedy show In Living Color! We were inspired by Jennifer's music videos, TV and movie roles while designing our silver screen In Color legging for our #jloxniyamasol collab. We dug deep in the history of her career to feature scenes from some of our favorites like Selena, Enough, Maid in Manhattan and Shades of Blue, to name a few. Put your trivia hat on and have fun discovering all of your favorite #jlo moments in these leggings! #jloxniyamasol #niyamasol #leggings #collab
A post shared by Niyama Sol (@niyamasol) on
J.Lo also threw some gorgeous sports bras into the mix, like the Grateful (which she's also wearing in her Insta post) and Envy bras, both of which are super fun and flirty.
Jennifer has been busy AF lately. Not only is she back on World of Dance, she recently wrapped up her 10-day no carbs, no sugar challenge, which she says she plans to pick up again (because, J. Lo). Clearly, all of her hard work has paid off, because the abs photos she's been posting lately are just…wow. I'm just going to leave you with these:
View this post on Instagram
What does it take to be the best? ✨ @NBCWorldofDance returns TUESDAY February 26 9/8c on @nbc
A post shared by Jennifer Lopez (@jlo) on
View this post on Instagram
Day 9 and feelin'… like I can't wait for Day 10. 😅 Who's still with us? @arod #10DayChallenge #NoSugarNoCarbs @niyamasol #niyamasol #jloxniyamasol
A post shared by Jennifer Lopez (@jlo) on
View this post on Instagram
Day 4 & feeling….. a lil better 🙂 Who's with me? #10daychallenge #NoCarbsNoSugar
A post shared by Jennifer Lopez (@jlo) on
Source: Read Full Article