While more of us might be reaching for comfort food to cope with prolonged COVID-19 lockdowns, a new study is warning that Australians have far too much added sugar hiding in their weekly grocery haul and highlights a need for more upfront labelling.
Researchers from The George Institute for Global Health have examined supermarket purchasing data of almost 7200 Australian households over a year-long period, and found that the amount of added sugar from packaged food and drink came to an average of nine teaspoons a day per person, going up to as high as 11 teaspoons, mainly among lower income households.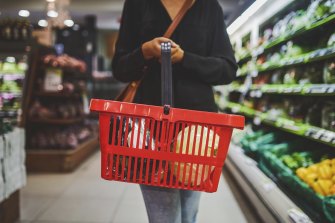 More than 80 percent of added sugars came from just 10 product categories.Credit:iStock
The study's lead author, accredited practising dietitian Daisy Coyle, said this figure should be no higher than seven teaspoons, given two-thirds of added sugar in the Australian diet comes from packaged foods, and the World Health Organisation recommends that an adult with a healthy body mass index should have less than 12 teaspoons of added sugar per day.
Coyle says the results of the research paper, published on Tuesday in the Journal of the Academy of Nutrition and Dietetics, are worryingly high as they don't include sugar from food and drink bought elsewhere.
"It's not taking into account the chocolate bar from the petrol station, or your takeaway from UberEats," Coyle says.
Coyle's analysis determined that more than 80 per cent of the added sugars purchased came from just 10 product categories. These included the usual suspects such as lollies, baked goods and soft drink, but Coyle was troubled to see breakfast cereal, sauces (including pasta sauce) and yoghurt make the list. And just 10 companies – which are not named, but include three supermarket retailers that have home brands – were found to be responsible for almost two-thirds of added sugars sold.
"People might think they're cutting back on added sugar, but it's sneaking into people's trolleys through everyday foods, which makes the habit so hard to crack," Coyle says.
One limitation of the study is that researchers don't know how much of the purchased packaged food would have gone to waste, but Coyle says they are confident most of it would have been consumed over the year, as unlike fresh produce, it doesn't get thrown out each week if uneaten.
Coyle says Australians should be concerned about the amount of extra sugar in their groceries, particularly at a time when many of us are snacking more and buying more from the supermarket than usual.
Australian food ministers are expected to consult publicly on proposed changes to food labels later this year to improve information on added sugar.
One way is by quantifying it on product nutrition panels. "Currently they only list total sugars. It's confusing because you don't know how much is coming from, for example, dry fruit versus pure sugar," Coyle says.
Other options include showing the number of teaspoons of added sugar on the front of packaging with a pictorial warning, and a clearer ingredients list.
"There are about 800 terms and variations for added sugar, so it makes it really hard for consumers to pick up a product and know if it has a lot," Coyle says. "It would be great if all added sugar terms could be listed under one ingredient."
Coyle says she would like to see the government's voluntary sugar targets made mandatory to force companies to make healthier food. She also calls for the sizes of junk food products to be reduced.
"We need to limit the amount of sugar manufacturers are pouring into our packaged foods and let consumers make informed choices when they shop," she says.
Tips for reducing your intake of added sugars
To calculate how many grams are in a teaspoon, use this as a guide: one teaspoon = approximately four grams of sugar.
Look out for added sugars on the ingredients list. There are more than 800 terms, but common ones include fructose, rice syrup, dextrose, maple syrup, glucose, sucrose and all types of sugar (brown, white, raw).
If a product contains more than 15 grams of sugar per 100 grams, it probably contains added sugar. Look for those that have under five grams per 100 grams instead.
Cut back on foods that are high in added sugar, such as confectionery, ice-cream, sugary drinks, flavoured milk, biscuits and cakes.
When choosing between products, opt for plain and unsweetened varieties e.g. natural yoghurt, plain milk and unflavoured meats.
Spend more around the perimeter of the supermarket where you'll find healthy staples including fruit, vegetables, milk, eggs, nuts, meat and bread. These foods should make up the majority of your diet.
Download the FoodSwitch app. It will tell you how much added sugar is in a product and recommend healthier alternatives to switch to.
Source: The George Institute for Global Health
Associate Professor Gary Sacks, of Deakin University's Global Obesity Centre, says the research results are "alarming" given most people buy their food from the supermarket and high-sugar diets are heavily linked to Australia's obesity rates, and in turn, other chronic diseases. A quarter of children and two-thirds of adults are overweight or obese, and the Australian Dietary Guidelines urge people to limit their sugar intake.
Sacks, who was not involved in the George Institute research, supports clearer food labelling, and says he'd also like to see Australia follow the UK by introducing a sugar tax, plus measures to curb junk food's advertising and heavy discounting.
"There's a responsibility on food companies to take more action," Sacks says. "With confectionery, no one is pretending those are healthy products and consumers understand that, but when you look at other categories … there's a lot of scope for sugar levels to come down."
He adds it's also important we don't overly focus on one individual nutrient, and instead consider foods' overall nutrition.
"While sugar is a problem, one reason we got into this situation of high sugar in yoghurt is because decades ago there was fuss about fats, so food manufacturers started to make low-fat yoghurt, and increased sugar to compensate."
Sacks wants the voluntary Health Star Rating system – which accounts for multiple nutrients – to become mandatory, which the George Institute also strongly backs.
Make the most of your health, relationships, fitness and nutrition with our Live Well newsletter. Get it in your inbox every Monday.
Most Viewed in Lifestyle
From our partners
Source: Read Full Article