Winter can be a tough time to work out. Icy cold air sucker punches you the moment you walk out the door every morning and the days of breezy summer runs in shorts and T-shirts feel like distant memories, barely visible through the darkness creeping in around 5 p.m. The warm embrace of Netflix with a side of hot chocolate (with a side of whiskey) is slightly more appealing than an evening at the gym.
And yet, there's good reason for you to put down the remote and hit the gym over the next few months. Seasonal affective disorder, a type of depression related to changes in seasons, is high in the winter. However, quality sweat sessions can deliver an essential mood boost to pull you through to spring.
"Your goal should be to not have a break in fitness during the winter months," says Danny Mackey, head coach of Brooks' team of elite track runners, the Brooks Beasts.
"We know that people ultimately will feel better with movement because of the hormone surge," adds Dennis Cardone, DO, chief of primary care sports medicine at NYU Langone Health.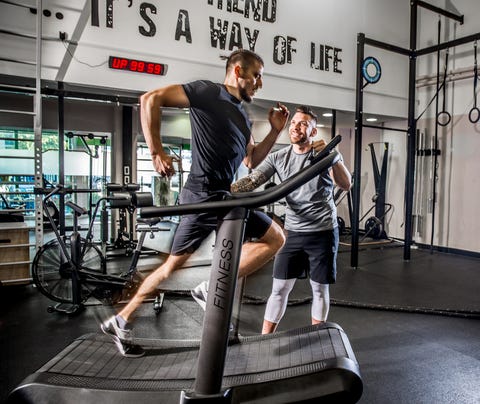 Getty ImagesCasarsaGuru
So while it doesn't offer fresh air and sunshine, a treadmill run can still change your day and your life for the better. "If you're willing to take your routine indoors, you'll be able to stave off injury," says Mackey. "Your body will appreciate the normalcy."
If you're already hitting the weights, this is no big deal. For runners, however, "take your routine indoors" can only mean one dreadful thing: the treadmill. Yes, plodding away the miles while staring at a TV screen doesn't sound all that exciting, but if you can embrace the tread, Mackey says there are ways it can seriously spice up a gym session.
"It takes a couple days, but once you get into a little bit of a routine with it, then you have the opportunity to really enjoy it," Mackey says. "You get a lot of ability to control things indoors (pace, incline, weather) that you don't get out there."
Here, Mackey offers up a killer treadmill finisher that will spike your heart rate, torch calories, and help you learn to love spending time finding your fast indoors. Take it to the next level with the right footwear, such as the Brooks Adrenaline GTS 19 with responsive cushioning and holistic support—perfect for picking up the pace.
The Workout
Warmup: Two miles at a conversational pace. Effort should be six out of 10.
The Finisher: Cutdown Progression
Instructions: Start at an easy pace (six out of 10). Every .25 miles, increase your pace .1 or .2 mph, depending what you're comfortable with. Repeat for two miles total (this will be seven speed increases).
Why It Works: "You can do this even if you're not feeling amped," says Mackey. "You're starting at a controlled paced, which gives you the opportunity to get your bearings before going all-out. Plus, you control the variability here. Want to increase it .3 every quarter mile? Go for it. You can dial up the intensity however you want."
Cooldown: An additional one to two miles at conversational pace.
Source: Read Full Article