HONOLULU – Nearly every day, Candrice R. Heath, MD, spends time during office visits dispelling myths about hair care practices in patients with skin of color. One myth is the idea that not washing hair helps it to grow.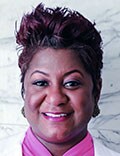 Dr Candrice Heath
"This is false," Dr. Heath, director of pediatric dermatology at Temple University, Philadelphia, said at the Hawaii Dermatology Seminar provided by MedscapeLIVE! With little manipulation, length may be retained, since tightly coiled hair has a higher likelihood of breakage, she said. "But washing the scalp and hair is recommended for tightly coiled hair weekly or every other week. Exclusively co-washing – a technique where hair conditioner is used instead of shampooing – is also not advised due to scalp build-up."
Other myths she addressed include the following:
" I have a weak spot (or stress spot) on the top of my scalp." These terms may be used to describe hair on a spot that goes through cycles of breaking off and re-growing. This is false. "If someone were to say that, and we see short hairs on the top of a patient's scalp, with or without tenderness, pruritus, or pain, we want to recognize that as possibly an early sign of central centrifugal cicatricial alopecia [CCCA]," she said. "We want to pick up cases of CCCA forme fruste [central hair breakage] early."
Medicated shampoos are helpful for all patients with seborrheic dermatitis. This notion is more complicated. "In theory, medicated shampoos like ketoconazole should be helpful, but if the shampoos are too drying for the hair and they cause further hair breakage, that's going to be a problem as well," explained Dr. Heath, who was the senior author of an article on how to address common conditions affecting pediatric and adolescent patients with skin of color. For patients with tightly coiled hair, she recommends applying antifungal shampoos to the scalp only, waiting 5-10 minutes, rinsing, and shampooing the scalp and hair with a moisturizing shampoo and rinsing. They can then condition with a moisturizing conditioner and style their hair as desired.
Don't touch a Black woman's hair. That unwritten rule may apply to a woman you pass on the street, she said, but not during clinical exams in cases where clinicians and patients seeking hair loss treatment have different hair types. "Touch the hair; don't do a lean-in exam," emphasized Dr. Heath, who is the inaugural faculty scholar at Temple University Lewis Katz School of Medicine's Office of Health Equity Diversity, and Inclusion. "You want to perform the scalp and hair exam with cultural humility." Understanding the patient's hair care goals and perspective allows dermatologists to take a more individualized approach to their concerns, especially in race-discordant patient-physician interactions.
Going natural (chemical-free) will solve scarring hair loss problems. This is false. "Genetic defects in the hair shaft have been described as the cause of some CCCA cases, so we need to stop solely blaming the patient for that condition," she said. Dr. Heath noted that the transition point between natural hair and relaxed hair is highly prone to breakage. She suggests low or lower tension options such as knotless braids, and crochet hairstyles, and when patients have locs, they should be shoulder length or higher to reduce tension.
Dr. Heath disclosed that she has served as a consultant or adviser for Arcutis, CeraVe, Janssen Pharmaceuticals, Johnson & Johnson Pharmaceutical Research & Development, Leo, Lilly, Pfizer, and Regeneron Pharmaceuticals.
Medscape and this news organization are owned by the same parent company.
This article originally appeared on MDedge.com, part of the Medscape Professional Network.
Source: Read Full Article